Skip to content
About NA'AMAT
NA'AMAT is one of Israel's oldest and most essential organizations, with its early leaders – including Golda Meir – playing a vital role in the country's establishment. In 1925 NA'AMAT was founded as the "Women's Organization for the Pioneer Women of Palestine," to advocate for the pioneering women living, working, and establishing families in what would become the modern state of Israel.
Read About our 100-Year History Here
Our Mission
To improve the lives of women, youth, and families in Israel.
Our Vision
A vibrant, inclusive, egalitarian Israel where all citizens and families have access to the resources they need to thrive, regardless of background.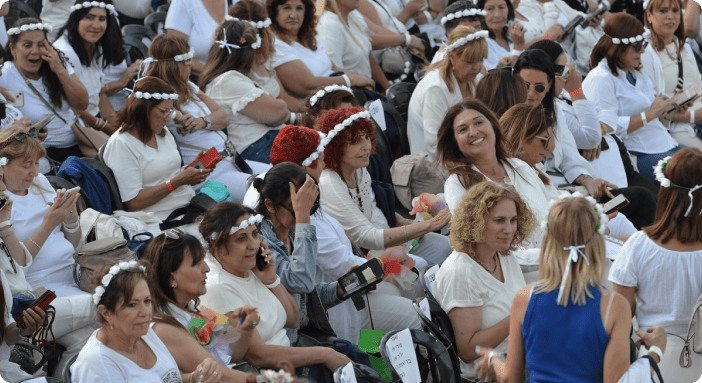 Israel's Largest Women's Organization
NA'AMAT is not only one of Israel's earliest organizations – it is one of its most essential. NA'AMAT is the largest women's organization in Israel, at the forefront of improving the lives of millions of women, children, and families.
Improving the Community
NA'AMAT has created a critical network of women's health and rights centers, daycare centers, youth villages, high schools, scholarship funds, legal aid bureaus, and more. The organization also advocates for legislation and positions that lift up Israel's families, and champion women's and minority rights.
Together, with Israel
NA'AMAT is at the heart and soul of a healthy, modern, inclusive Israeli society — and NA'AMAT USA is proud to stand shoulder-to-shoulder with our sisters in Israel and NA'AMAT chapters around the world as partners in this work.
Our Leadership
NA'AMAT is a national volunteer organization whose national board, staff, and members are inspired to contribute to building a stronger, more integrated, more vibrant Israel. Like our Pioneer Women ancestors, these members continue to roll up their sleeves to work to strengthen the social fabric of Israel for all its citizens.
Meet Our Leadership